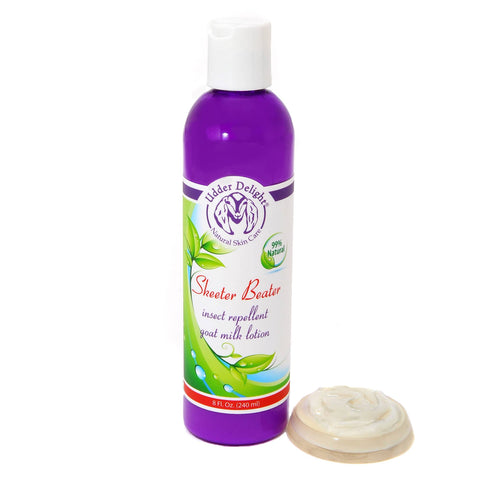 Our natural "deet free" insect repellent lotion has the same wonderful moisturizing and exfoliating properties as all our goats milk lotions.
We've added natural essential oils of citronella, lemongrass, and lavender to help repel biting insects. Great used in combination with our Insect Repellent Soap, also formulated with essential oils to repel insects, when camping, fishing, or hiking. The natural formulation is gentle enough to use on babies.
"Do you have anymore of the insect repellent lotion it works great on us and our horses I need about 10 more bottles. Thanks" -J. G.
Ingredients: Purified Water, Rice Bran Oil, Olive Oil, Aloe Vera Juice, Emulsifying Wax, Stearic Acid, Goat's Milk, Shea Butter, Vegetable Glycerin, Vitamin E Oil, Citric Acid, Germall Plus & Lavender Essential Oil.  Active ingredients: Citronella & Lemongrass.
Related Products
From this Collection