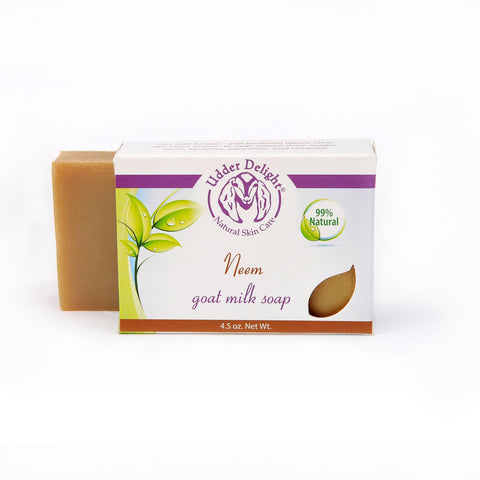 Our unscented Neem Soap offers relief for problem skin and scalp and even adds body to fine hair. This wonderful bar is so popular we have a difficult time keeping it in stock.
Neem Oil has been proven to be antiseptic, anti-viral, anti-fungal, anti-insect, anti-inflammatory, and anti-ulcer and has been used for centuries to treat eczema, psoriasis, rosacea, dermatitis, and acne. Our customers tell us this bar really makes a difference for their skin and scalp.
No scent is added to this bar; you will smell only the rich, peanut-y scent of Neem Oil which will not linger on skin or hair.
Ingredients: Olive Oil, Goat's Milk, Rice Bran Oil, Palm Oil, Palm Kernel Oil, Coconut Oil, Neem Oil, Castor Oil, Purfied Water, & Shea Butter.
Related Products
From this Collection